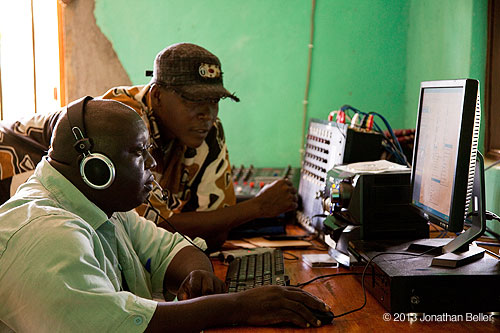 Station Manger Foday Sajuma (foreground) producing programs for Radio Moa.
Radio Moa 105.5 FM
"The Voice Of The Voiceless"
Kailahun District, Sierra Leone
Radio Moa has been a vital force in rebuilding the rural communities where Sierra Leone's ten year civil war began and ended. Programming focuses on peace and security, corruption, domestic violence and economic development. Broadcasting in the local Mende and Kissy languages, Radio Moa also serves as platform for community conversation and action on education and health care. The station began broadcasting in 2003.
FWA and its partners have supported Radio Moa with three grants:
• $15,000 for broadcast and production equipment to help launch the station.
• $2,925 to upgrade its in-house production capacity in time for the July, 2007 elections. The grant paid for equipment - MiLar (sound mixer), desk top computer, microphones, headphones and other equipment - to help produce local programming with greater efficiency and quality.
• $5,000 for two motorcycles that enable reporters to reach remote areas to gather news and the provide an opportunity for citizens to speak out on issues that concern them.
FWA partners include: Search for Common Ground / Talking Drum Studio; Radio Moa Board of Directors; The US Agency For International Development (USAID); The Robertson Foundation.