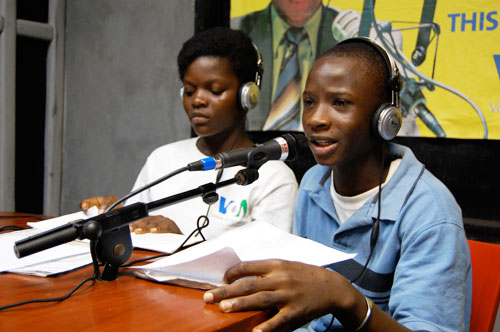 Young broadcasters discuss issues impacting their peers on Kiddies Radio.
Kiddies' Radio SKYY FM
Freetown, Sierra Leone
Kiddies Radio was established by the Sierra Leone-based Media Foundation for Peace & Development (MFPD) and SKYY 106.6 FM to Provide opportunities for children and youth radio broadcasters to give voice to their peers in discussing issues that affect them and to find a common solutions.
With FWA support, MFPD is establishing a new radio station for children and youth to discuss these issues in greater depth, while learning journalism and broadcast skills from experienced professionals. The station will be used as a platform for civic education, promotion of human rights, health education, and other issues.
$15,550 from FWA has helped purchase a 1,000 watt transmitter, antennae, portable recording equipment and a mobile broadcast unit for Kiddies Radio. The station is awaiting assignment of its broadcast frequency from the Sierra Leone government.