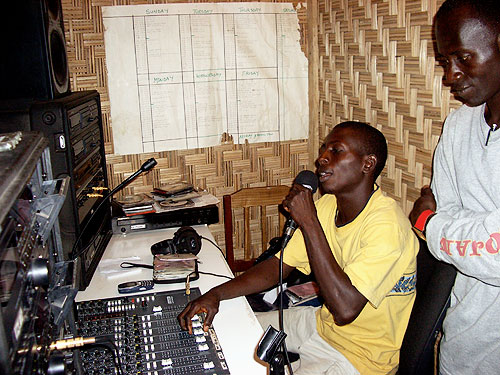 "DJ Wise" ends his program by encouraging listeners, "We are one. Let's push the country forward, together."
Radio Bintumani
93.7 FM
Kabala, Koindadugu District, Sierra Leone
Broadcasting from Kabala town, Radio Bintumani has created a platform for community dialogue on a host of issues affecting northern Sierra Leone communities. Many of the social, political and economic conflicts are ethnically-based, with Fulah, Koranko, Mandingo and Limba tribes living among each other. Residents of Kabala and surrounding communities are struggling to overcome poverty, and are depend on Radio Bintumani as their voice for change.
FWA awarded a $2,925 to Radio Bintumani to upgrade its in-house production capacity in time for the July, 2007 elections. The grant paid for equipment, incuding a MiLar (sound mixer), desk top computer, to help produce programs with greater efficiency and sound quality.

Radio Bintumani has overcome many obstacles – including political intimidation – to become the most trusted source of reliable information in Koinadugu District. To build a spirit of local ownership, Radio Bintumani broadcasts news programs in the four predominant local languages. The station also provides space for both Muslim and Christian broadcasts, while ensuring that local elected officials are held accountable for their actions.