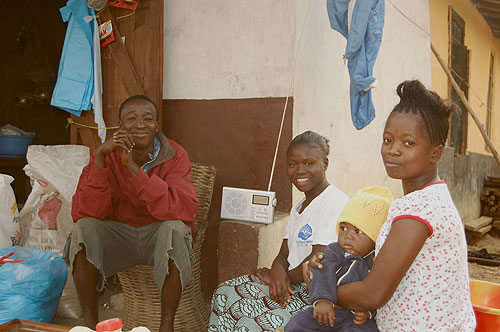 Residents of Sinje listen to the morning news from Radio Cape Mount, 105.5 FM.
Radio Cape Mount
105.5 FM
"Creating A Strong Voice For Good Governance, Non-Violence And
Economic Development"
Sinje, Grand Cape Mount County, Liberia
Launched in 2008, Radio Cape Mount serves the southwestern region of Liberia that borders Sierra Leone. Cape Mount County is still working to rebuild from Liberia's 1989-2003 civil war. During that conflict, thousands of Sierra Leonean refugees sought safety from their own war, causing additional stress on the community.
Radio Cape Mount broadcasts its programs in the local Vai language. It has become known as a media outlet that holds public officials accountable, while providing a platform for citizens to openly discuss the issues of the day.
The Foundation for West Africa (FWA) donated $8,124.00 to support the start-up and operation of Radio Cape Mount Radio. FWA funds helped with the purchase and installation of studio and field broadcast equipment, and a motorcycle for radio station staff mobility.