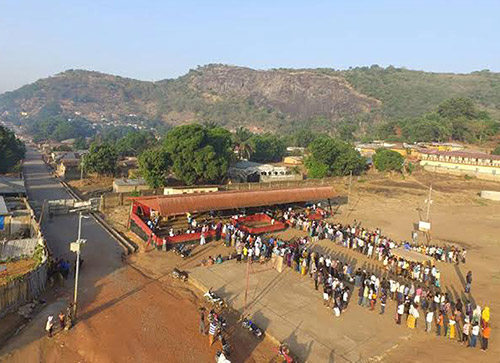 Voters in Kabala, Sierra Leone line up at the polls on Election Day. Kabala is 188 miles from the capital Freetown, but voters were kept informed by their community radio station, Radio Bintumani 93.7 FM. one of 40 members of the Independent Radio Network (IRN) linked by satellite broadcast. Photo courtesy of Ali Kamanda and Biko Studios.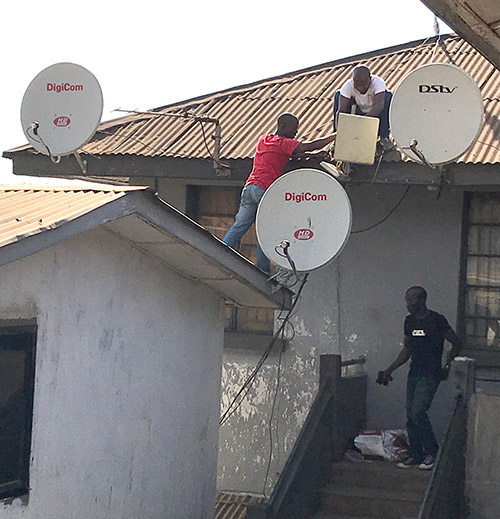 Technicians check satellite broadcast equipment at the IRN Hub in Freetown.  For the first time ever, IRN listeners throughout Sierra Leone were linked by a single, clear broadcast of national elections.  Citizens engaged in nationwide, on-air discussions about the candidates, party platforms, and the election process.  IRN's national election simulcast was made possible by a grant from TFWA.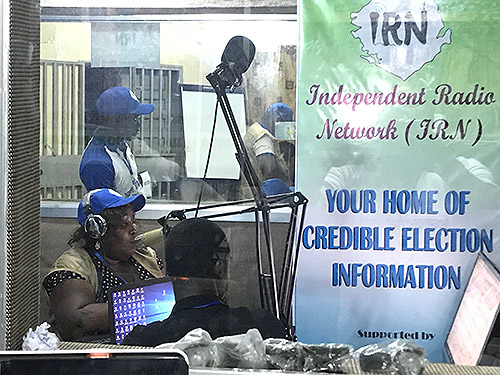 IRN Reports Provisional Election Results, March 7, 2018.
Update On Sierra Leone National Elections
Independent Radio Network (IRN) Provides Standout Election Reporting. TFWA Technology Grants Transform IRN Coverage.
Sierra Leone voters finally elected a new President following months of high-tension campaigning and a March 31 runoff election. Julius Maada Bio (Sierra Leone People's Party) was sworn in April 4th after defeating Samura Kamara (All People's Congress) by 3 percentage points. International observers deemed the election "free and fair." Several isolated incidents of violence against journalists and among political party supporters occurred during and after the election.
TFWA's Topher Hamblett (president) and Lamin Sarr (vice-president) were in Sierra Leone February 26-March 9 to observe radio coverage of the first round of elections, and monitored event closely after returning. The highlights:
With political intimidation and the spread of false rumors threatening to undermine elections, the Independent Radio Network (IRN) stood strong by maintaining its independence and keeping voters informed with timely, accurate information. The IRN:
• Conducted a first-ever, nationwide radio simulcast of elections, using satellite technology donated by TFWA. Election news and results were broadcast from the IRN "hub" in Freetown through its 40 stations around the country, and reached nearly 7 million people.
• Trained over 600 "stringer" reporters to cover polling stations.
• Equipped its reporters with a new APP for more consistent, reliable reporting of poll results.
• Connected Sierra Leonean citizens throughout the country and around the world with a 2018 Elections Powerhouse APP that provides up-to-date news, information and polling results.
• Promoted peaceful conduct and transparency. IRN Reports Provisional Election Results, March 7, 2018
Thanks to you, TFWA was able to fund the purchase and installation of satellite link infrastructure, and the Election Powerhouse APPs used by reporters and citizens. These technologies transformed IRN's election coverage by expanding its reach nationally and globally. "This would not have been a success without your (TFWA's) help. It is crucial for our work." Michael Jamiru, Senior Producer, IRN.